Purshotam Profiles, Goodluck, Strolar Top Solar Module Mounting Structure Suppliers in 2022
The top five companies accounted for 88% of the market share
Purshotam Profiles, Goodluck India, and Strolar were the top three module mounting structure suppliers to the Indian solar market in the calendar year (CY) 2022. Raydean and Metalkrafft Forming Industries rounded off the top five, according to Mercom's recently released report, India Solar Market Leaderboard 2023.
The report offers valuable information on the market shares of prominent companies in the industry and presents a comprehensive analysis of their performance.
Together these five companies accounted for 88% of the market demand, while the others accounted for the remaining 12% in an increasingly consolidated market dominated by a few large companies.
As India moves aggressively to achieve its target of 280 GW of solar installations by 2030, module mounting structures play a crucial role throughout these projects' lifetime, whether installed on the ground or on rooftops.
These structures bear the weight of solar modules, providing support and stability. They are designed to endure harsh weather conditions and strong winds, ensuring the projects' long-term durability and optimal performance.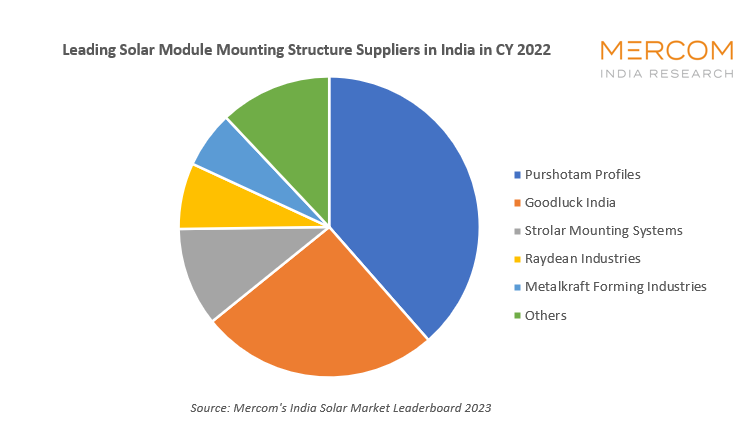 Purshotam Profiles ranked first with 38% of the total module mounting structure supply during 2022. The company's shipments increased significantly by 38% year-over-year.
Purshotam has a production capacity of 25,000 metric tons per month. The company has established an extensive distribution network of factories in Ahmedabad, Ghaziabad, Noida, Jodhpur, and Hyderabad to cater to both domestic and international demands.
The company's product range includes various types of C-Sections (such as columns, rafters, and bracings) and Hat-Sections like Purlin. The materials used comprise pre-galvanized, hot dip galvanized, HR, and PosMac.
Goodluck India came in second with 26% of the total module mounting structures that were supplied during 2022. The company's shipments saw an increase of 31.3% year-on-year.
Goodluck specializes in grid-connected solar parks and solar power plants. Their offerings encompass the supply, civil work, and installation of these structures. The company has developed its own cost-effective and user-friendly designs for panel support structures.
Strolar bagged the third position and accounted for 10.6% of the total solar module mounting structures that were supplied during 2022.
Its product range includes both roof and ground mounting solutions, catering to a wide range of projects.
Raydean Industries made remarkable progress in its ranking, rising from the eighth position in 2021 to the fourth position accounting for 7.1% of the total supply. The company's shipments of module mounting structures experienced an impressive year-on-year growth of 236.5%.
The company manufactures customized structures for solar projects, rooftop solar, solar water pumping systems (fixed & dual axis manual tracking), solar water tanks, and solar carports.
Metalkraft Forming Industries emerged as one of the new entrants in the top ten suppliers of mounting structures.
The company emerged in the fifth position, accounting for 6.1% of the total solar module mounting structures supplied during 2022. The company is a cold-roll-forming company located in Hyderabad. It was founded in 2002 and operates from a manufacturing facility spanning 125,000 square feet near Hyderabad.
The company has a monthly manufacturing capacity of 4,500 metric tons.
The report covers the market landscape across the entire supply chain. For the detailed and comprehensive report, click here.
Also, the Market Share Tracker, which gives data insights into your competitors and their growth rates every quarter, is now available.
Get the most relevant India solar and clean energy news.