Jinko Solar Ships Over 10 GW of Modules in Q2 2022
The company registered a revenue of $5.02 billion in 1H 2022
Jinko Solar, the Chinese solar cell and module manufacturer, has recorded a revenue of RMB18.84 billion (~$2.81 billion) in the second quarter (Q2) of the calendar year 2022, up 27.6% quarter-over-quarter (QoQ) and 137.6% year-over-year (YoY).
The company attributed the rise in revenue to an increase in solar module shipments.
The Q2 shipments stood at 10,532 MW (10,183 MW for solar modules and 349 MW for cells and wafers), increasing by 25.5% QoQ and 102.4% YoY.
For the first half (1H) of 2022, the company registered a revenue of RMB33.61 billion (~$5.02 billion), an increase of 111.8% compared to RMB15.87 billion (~$2.29 billion) during the same period last year.
The company's gross margin was 14.7%, compared to 15.1% in Q1 2022 and 17.1% in Q2 2021. The marginal change was mainly due to an increase in the material cost of solar modules.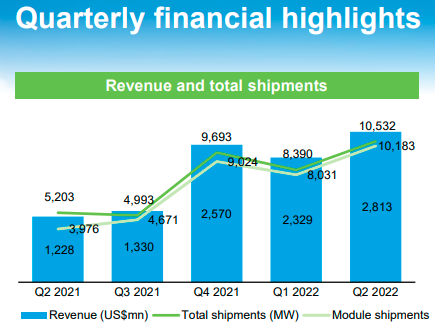 Source: Jinko Solar
Jinko Solar reported a net loss of RMB346.48 million (~$51.73 million) in Q2 2022, down by 307.8% compared to an income of RMB166.89 million (~$24.15 million) during the same period last year. The figures marked a decrease of 432.3% compared to an income of RMB104.27 million (~$15.08 million) during the last quarter. For 1H 2022, the company registered a net loss of RMB242.21 million (~$36.16 million), decreasing by 155.5% from RMB436.71 million (~$63.19 million) during the same period last year.
Xiande Li, Jinko Solar's Chairman of the Board of Directors and CEO, said, "We had a good quarter despite difficult market conditions. Total module shipments in the second quarter were approximately 10.2 GW, up 26.8% sequentially, and total revenues reached US$2.81 billion, up 27.6% QoQ. As polysilicon prices continued to rise, we actively worked to control internal costs through technical advancement and process improvement, partially offsetting the impact of higher upstream costs."
"The demand for solar products continued to grow in many markets. In the first half of 2022, Europe imported 42.4 GW of PV modules, a YoY increase of 137%, and China achieved solar installations of 30.9 GW, a YoY increase of 136%. We believe polysilicon prices will continue to increase and reach their peak in the third quarter. As polysilicon production gradually ramps up in the fourth quarter, polysilicon prices are expected to moderate, driving downstream demand recovery," Li said.
The earnings before interest, taxes, depreciation, and amortization (EBITDA) stood at $186 million in Q2 2022, up by 56% from $126 million in Q1 2022. The numbers marked a YoY increase of 35% from $143 million.
The company expects manufacturing capacity for mono wafers, cells, and modules to reach 60 GW, 55 GW, and 65 GW, respectively, by the end of 2022. The total shipments of N-type products will touch 10 GW in 2022 and account for more than 50% of total shipments in 2023.
In April 2022, Jinko Solar achieved a major technical breakthrough for its 182 mm high-efficiency N-type monocrystalline silicon solar cell. It set a new world record with a conversion efficiency of 25.7% for its large-size monocrystalline silicon TOPCon solar cell.
The company announced that the first phase of 16 GW N-type cells reached total capacity with mass production efficiency exceeding 24.8%. The company has started additional production of 8 GW of N-type cell capacity in Hefei and begun construction of another production facility with 11 GW of N-type cell capacity in Haining.
As of June 30, 2022, the company's annual production capacity for mono wafers, solar cells, and solar modules was 43 GW, 42 GW, and 50 GW, respectively.
In Q1 2022, the company reported total revenues of RMB14.76 billion ($2.24 billion), an 86% YoY growth.
Earlier, Jinko Solar had completed its initial public offering process and started trading on the Shanghai Stock Exchange's Sci-Tech innovation board.
Get the most relevant India solar and clean energy news.