EoI Invited to Develop 120 MW of Solar Projects Along Maharashtra Prosperity Corridor
The last date to submit expressions is February 17, 2022
Maharashtra State Road Development Corporation Limited (MSRDC) has issued an expression of interest to develop 120 MW of solar projects on land available across the 701-kilometer Hindu Hrudaysamrat Balasaheb Thackeray Maharashtra Samruddhi Mahamarg (HHBTMSM).
The last date to submit expressions is February 17, 2022.
The EoI is invited from the prospective engineering, procurement, and construction (EPC) companies, captive and utility-scale solar project developers interested in setting up solar power projects at the offered project lands.
The HHBTMSM, i.e., Nagpur Mumbai Super Communication Expressway, also known as 'Maharashtra Prosperity Corridor,' is the flagship green-field project of the Government of Maharashtra connecting ten districts directly to Mumbai and fourteen other districts through a feeder network.
As a green initiative, MSRDC has assessed around 138 MW of solar capacity at seven interchanges along the HHBTMSM. Of this, a 5 MW solar project at Bhilkheda village in the Washim district is being developed by its special purpose vehicle Mahasamruddhi Renewable Energy Limited.
Earlier this month, Mahasamruddhi Renewable Energy Limited issued an engineering, procurement, and construction (EPC) tender to develop a 5 MW(AC) project at Bhilkheda in the Washim district.
MSRDC is also expected to develop a 4 MW solar project at Mahekar village in the Buldhana district.
The company intends to offer the balance assessed capacity to prospective developers on the lands to be made available on a long-term lease of 27 years. As per MSRDC's detailed survey, there is potential for setting up around 120 MW of solar projects across six locations.
Mercom had earlier reported that MSRDC issued a consultancy servicing tender to assess the potential for developing 150-200 MW of solar projects along the Nagpur-Mumbai Superhighway.
The company said a 22.47 MW solar project could be developed at Virul in the Nagpur district. In the Amravati district's Dhamangaon village, around 81 acres of land is to be selected for an 18 MW solar project and 88 acres in Talegaon village to set up 24.5 MW of solar projects.
In the Washim district, the company is expected to develop 26 MW solar projects at Malegoan and 11 MW solar projects at Karanja Lad. It would allocate 70 acres of land in Mehkar village in the Buldhana district.
MSRDC will invite a separate financial quote for the lease rent for the land offered for solar project development, and no financial bid is required as a part of EoI submission.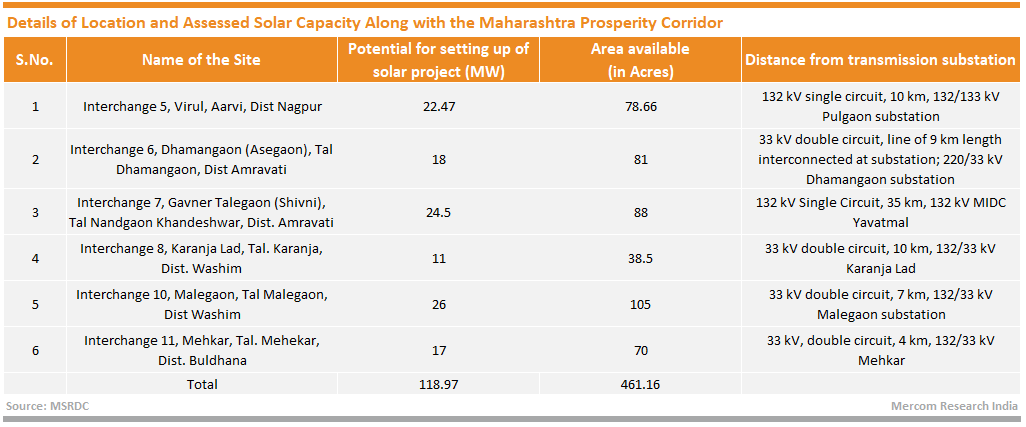 Earlier this month, Central Electronics Limited, a public sector enterprise under the Ministry of Science and Technology, invited bids for the design, supply, erection, testing, and commissioning of decentralized solar systems ranging from 2 MW to 10 MW for a total capacity of 25 MW at various substations in Maharashtra.
Subscribe to Mercom's India Solar Tender Tracker to stay on top of real-time tender and auction activities.
Harsh Shukla is a staff reporter at Mercom India. Previously with Indian Express, he has covered general interest stories. He holds a Masters Degree in Journalism from Symbiosis Institute of Media and Communication, Pune.
Get the most relevant India solar and clean energy news.