Bihar Proposes Renewable Power Purchase Obligation Trajectory Until 2030
The targets are in tune with the RPO trajectory issued by the Ministry of Power
The Bihar Electricity Regulatory Commission (BERC) has issued the draft 'RPO, its compliance and REC Framework Implementation) (4th Amendment) Regulation 2022.'
In line with the directions of the Ministry of Power, the Commission has proposed to specify separate wind renewable purchase obligation (RPO), hydropower purchase obligation (HPO), and other RPO within the overall RPO target.
Also, the appropriate provisions related to RPO, as specified in the 'Green Energy Open Access Rules 2022,' have been proposed to be incorporated in the 4th amendment to the RPO Regulations.
The stakeholders have time until September 12 to submit their objections and suggestions.
The Commission has proposed the RPO targets until FY 2030, consisting of wind RPO, HPO, and other RPO. The minimum quantity of electricity to be procured from renewable sources by obligated entities as a percentage of total consumption is given below:
As per the new clause, HPO should be met only by energy produced from large hydro projects (LHPs) commissioned after March 8, 2019. Wind RPO should be met only by energy produced from wind power projects commissioned after March 31, 2022. Similarly, other RPO may be met by energy produced from any green energy-based power project (excluding wind and hydro).
If the free power provided by the state is insufficient to meet the HPO targets, then the obligated entity would have to buy the additional hydropower or may have to buy the corresponding amount of renewable energy certificates (RECs) corresponding to hydropower.
Further, any shortfall in the achievement of the 'other RPO' category can be met with either excess energy consumed from wind power projects commissioned after March 31, 2022, beyond wind RPO for that year. The shortfall can also be met with excess energy consumed from eligible large hydro projects commissioned after March 8, 2019, beyond HPO for that year. Further, any shortfall in achieving wind RPO in a particular year can be met with excess energy consumed from hydropower projects, which exceeds HPO for that year and vice versa. The renewable energy purchased through bundled power will qualify for RPO compliance to the extent of the renewable energy content in the bundled power.
Also, the Commission has added the energy storage obligation targets until 2029-30 under a new clause.
The following percentage of total energy consumed should be solar or wind energy along with storage: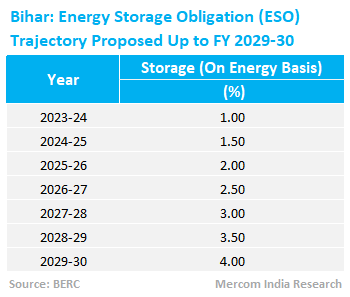 The energy storage obligation (ESO) should be calculated in energy terms as a percentage of the total consumption of electricity and should be treated as fulfilled only when at least 85% of the total energy stored in the energy storage system, on an annual basis, is procured from renewable energy sources.
As per another new clause, any obligated entity may elect to generate, purchase and consume renewable energy to meet their obligation by one or more of the following methods:
There should not be any capacity limit for the installation of power projects from renewable energy sources by obligated entities for their consumption. Such plants may be set up at any location in India, and power shall be transmitted through open access.
By procuring renewable energy through open access from any developer either directly or through a trading licensee or power markets.
By purchasing RECs per the applicable regulations.
The obligated entity can also meet its RPO targets by purchasing green hydrogen or green ammonia. The quantity of such green hydrogen or green ammonia would be computed by considering the equivalence to the green hydrogen or green ammonia produced from one MWh of electricity from renewable sources or its multiples.
Last month, the Ministry of Power (MoP) issued the RPO and ESO until the financial year 2029-2030. A committee under the co-chairmanship of secretaries of MoP and Ministry of New and Renewable Energy was constituted on December 17, 2020, to recommend RPO trajectory beyond 2021-22. Based on the recommendations of the joint committee and discussions with MNRE, MoP specified the RPO trajectory beyond 2021 -22.
Subscribe to Mercom's real-time Regulatory Updates to ensure you don't miss any critical updates from the renewable industry.
Get the most relevant India solar and clean energy news.