Top 5 States for Open Access Solar Installations in CY 2022
Karnataka topped the list with a staggering 679% YoY growth
India added an impressive 2.5 GW open access solar capacity in 2022, registering a growth of 92% year-over-year (YoY), according to the 2022 Q4 & Annual Mercom India Solar Open Access Market Report.
Karnataka emerged as the top state in 2022, with the largest capacity addition under open access solar power installations, followed by Maharashtra, Tamil Nadu, Chhattisgarh, and Uttar Pradesh. These states contributed to over three-fourths of the total installations during the year.
In the fourth quarter (Q4) of 2022, the top five states were responsible for over 96% of all open access solar installations.
The sharp increase in open access solar last year was largely attributed to the commissioning of projects delayed in 2021 due to pandemic-induced lockdowns.
Moreover, easing supply chain constraints enabled developers to expedite their projects before the Basic Customs Duty and Approved List of Models and Manufacturers regulations were implemented.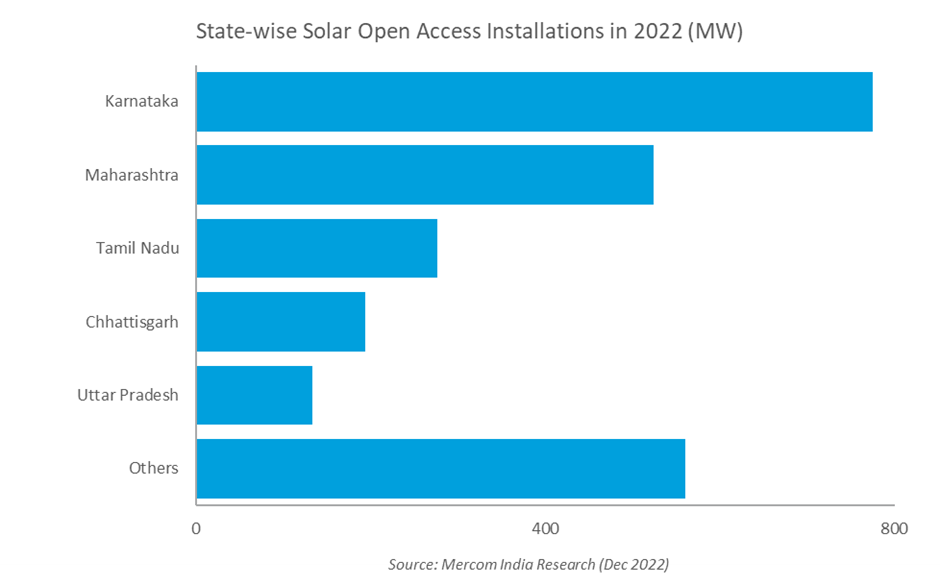 Karnataka 
Accounting for over 31% of the total installations in 2022, Karnataka demonstrated a staggering 679% YoY increase in its open access solar capacity.
The state's power mix continues to be dominated by renewables. The share of renewables, including large hydro, increased from 64% to 65% between 2021 and 2022.
Karnataka's industry-friendly regulatory framework and prompt approvals from distribution companies (DISCOMs) contributed to its performance. Besides favorable policies, other contributory factors included abundant land availability, high levels of irradiation, and robust transmission infrastructure.
Most installations were made under the captive and group captive models, as they are exempt from cross-subsidy and additional surcharges. Industries opting for open access solar were primarily the information technology, pharmaceutical, and iron-based industries.
Maharashtra 
Maharashtra was second for open access solar power installations, showing a growth rate of 136% YoY.
The state has a significant C&I market and one of the country's highest retail tariffs, making solar open access a popular alternative source among these consumers.
Maharashtra has ample land and readily available transmission infrastructure to set up solar open access projects.
Also, Maharashtra's multi-year electricity tariff framework allows developers to make informed decisions on project planning and execution over the long term.
Tamil Nadu
Tamil Nadu ranked third on the list of top states for open access solar, showing a YoY increase of approximately 21%.
After a pause of several years, the state increased the electricity tariffs for C&I consumers by 6% last year.
The revision in multi-year tariff has prompted faster adoption of open access solar by the state's C&I segment.
In addition to the shift towards open access uptake by the C&I sector, the favorable open access policies and prompt application approvals have also contributed to driving open access installations in the state.
Chhattisgarh
Chhattisgarh was fourth on the list, with a substantial YoY increase in installations of 315%.
The steep installation growth can be attributed to a significant uptake by the steel industry.
Timely approvals from DISCOMs and the exemption of cross-subsidy and additional surcharges for all open access business models have been instrumental in attracting developers to set up projects in the state.
Chhattisgarh offers the lowest solar open access net landed cost, which results in substantial savings.
Uttar Pradesh
Uttar Pradesh ranked fifth on the list, although capacity additions YoY dropped by 66%.
However, during Q4 2022, the state introduced a new solar policy that exempts open access charges for consumers that source electricity through the captive mode. This exemption is expected to benefit consumers as most of the open access projects in the state are under the captive and group captive model.
Uttar Pradesh also has a lucrative banking policy that allows 100% of the energy to be banked annually for captive consumers at a banking charge of 6%.
The 2022 Q4 & Annual Mercom India Solar Open Access Market Report covers a detailed analysis of state policies and regulations related to solar open access and covers vital information and data on the market. For the complete report, please visit:  https://www.mercomindia.com/product/india-solar-open-access-market-report-q4-2022
Get the most relevant India solar and clean energy news.