Norwegian Climate Investment Fund, managed by development and finance institution Norfund and Norway's largest pension Fund KLP, signed an agreement to acquire a 49% stake in a 420 MW solar ...
New Delhi-based electric vehicle (EV) maker Euler Motors announced that it had raised an additional $2.6 million in Series A funding from ADB Ventures - the venture investing arm of the Asian ...
Delhi's Shyama Prasad Mukherjee College has decided to install a 120 kW rooftop solar system atop its building. The college recently signed an agreement with HFM Solar for the project ...
The Ministry of New and Renewable Energy (MNRE) has postponed the date for the third edition of global Renewable Energy Investors' (RE-INVEST) meet and expo to be held in the ...
The Ministry of New and Renewable Energy (MNRE) has released a new circular which states that the third edition of global renewable energy investors' meet and expo will be held ...
Panasonic, a global technology company has collaborated with BSES Yamuna Power Limited to set up an electric vehicle charging station at their New Delhi head office. This pilot facility will ...
The Energy Efficiency Services Limited (EESL) has signed an agreement to deliver 15 electric vehicles (EVs) to the Department of Economic Affairs that comes under the Ministry of Finance. With ...
India's premier educational institution, Jawaharlal Nehru University (JNU), is going to be powered by solar energy, courtesy a 500 kW rooftop project commissioned by Fourth Partner Energy. The project has ...
The Delhi government has released its draft Delhi Electric Vehicle Policy 2018 to improve Delhi's air quality by bringing down the emissions from transport sector. With this policy, the government ...
BSES, Delhi's major distribution company (DISCOM), has launched the second phase of its Solar City initiative in New Delhi. Mercom has reported that in January 2018, BSES has launched Solar City ...
The Delhi government has approved several measures to encourage the use of clean energy to fight against air pollution, reported news agency Reuters. The city government is giving financial incentives ...
The Indian Railways have commissioned solar projects aggregating 5 MW. These projects have been set up on the roof tops of Hazrat Nizamuddin, New Delhi, Anand Vihar and Delhi railway ...
The Mahanagar Telephone Nigam Limited (MTNL) tendered a 1 MW solar project to be developed at TE Building, MTNL, New Delhi under RESCO Model. The bid-submission deadline is June 30, ...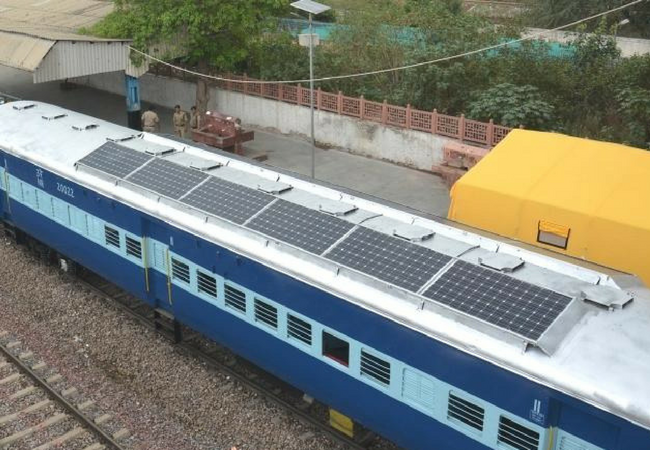 The Northern Railways is setting up 5 MW of solar rooftop at the New Delhi, Old Delhi, Anand Vihar and Hazrat Nizamuddin railway stations with the objective of generating electricity ...