Renewables Accounted for 83% of the Total Generation Capacity Added in 2022
A 3-fold jump in annual renewable addition needed to achieve 1.5°C by 2030
Renewable capacity grew by 9.6% in 2022, adding a record 295 GW worldwide. This accounts for 83% of all power capacity added last year and brings the global renewable generation capacity to 3,372 GW by the end of last year, a report by the International Renewable Energy Agency (IRENA) said.
The IRENA's Renewable Capacity Statistics 2023 confirmed that renewable energy is growing at record levels, defying global uncertainties and affirming the decline of fossil-fuelled power generation.
"The strong business case of renewables coupled with enabling policies has sustained an upward trend of their share in the global energy mix year on year. But annual additions of renewable power capacity must grow three times the current level by 2030 if we want to stay on a pathway limiting global warming to 1.5°C," said IRENA's Director-General Francesco La Camera.
Region-Wise Capacity Additions
IRENA's data showed that, although many countries increased their renewable capacity in 2022, Asia, the U.S., and Europe remain the primary drivers of renewable growth.
In 2022, almost half of all new capacity was added in Asia. The report said that China contributed the most by adding 141 GW to the continent's new capacity, resulting in a total of 1.63 TW of renewable capacity in the year.
Europe and North America saw renewable capacity grow by 57.3 GW and 29.1 GW, respectively. However, Africa's capacity grew by a modest 2.7 GW.
Oceania maintained its double-digit growth and expanded capacity by 5.2 GW. South America's capacity grew by 18.2 GW.
The Middle East recorded its highest increase on record, with 3.2 GW of new renewable capacity commissioned in 2022, a 12.8% increase.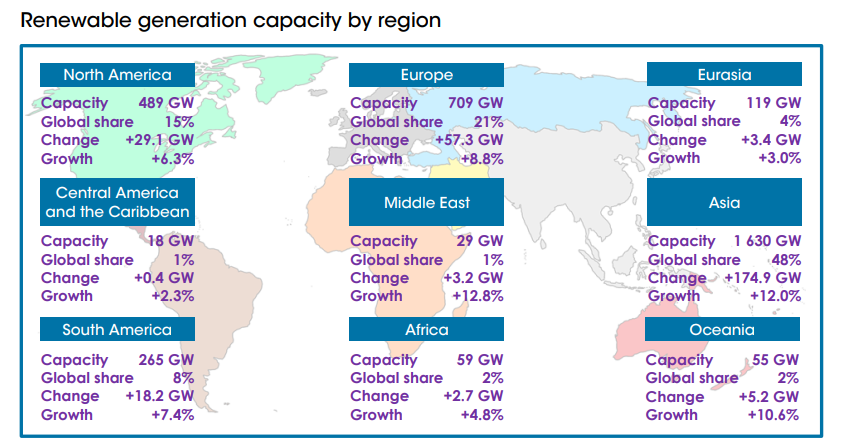 Region-wise Renewable Capacity Additions | Source: IRENA
Highlights by Technology 
The report said that solar and wind technologies dominated new renewable capacity, contributing 90% of all new capacity. At the same time, hydropower remained the largest source of renewable generation capacity, accounting for 1,250 GW.
Renewable generation capacity by energy source| Source: IRENA
Solar capacity experienced the highest increase with 22%, followed by wind energy with a 9% rise in generating capacity. The increase in solar power was mostly driven by solar photovoltaic power, which added 191 GW in 2022.
Renewable hydropower capacity rose by 2%, adding 21 GW of capacity, which is consistent with the expansion observed in recent years.
Wind energy grew by 9% to reach 75 GW, although it continued to slow compared to the previous two years.
Bioenergy experienced a slight slowdown in expansion, adding 7.6 GW compared to 8.1 GW in 2021.
Geothermal energy capacity rose by 181 MW. Off-grid electricity capacity grew by 1,237 MW in 2022, reaching 12.4 GW at 11% growth.
In November 2022, a new report by the International Renewable Energy Agency (IRENA) released at the ongoing U.N. Climate Change Conference COP27 found that the collective effort to switch to renewables and make the energy transition is not enough despite the Glasglow Climate Pact.
At the beginning of the year 2022, the Ministry of New and Renewable Energy (MNRE) signed a strategic partnership agreement with the International Renewable Energy Agency (IRENA), signaling its intent to strengthen its collaboration with IRENA in the field of renewable energy.
Get the most relevant India solar and clean energy news.