Renewable Energy Solutions Provider Scatec Posts $106 Million Revenue in Q1
Due to the ongoing unrest over Russia's war in Ukraine, Scatec bore an impairment of $81 million
Europe-based independent power producer Scatec recorded first-quarter (Q1) revenue of NOK1014 million (~$106.2 million), a year-over-year (YoY) surge of 25% from NOK954 million (~$100.40 million) in the same period last year.
Scatec's consolidated adjusted Earnings Before Interest, Tax, Depreciation and Amortization for Q1 2022 amounted to NOK398 million ($41 million), a YoY fall of 37.4% from NOK636 million (~$67 million) last year.
The company recorded NOK933 million (~$97.22 million) revenue from solar, wind, and hydropower projects in Q1 2022, a YoY surge of 7.4% from NOK868 million (~$92 million) last year. Scatec's renewables EBITDA amounted to NOK490 million (~$52 million), a YoY dip of 30% compared to NOK704 million (~$74 million) in the same period a year ago.
The company stated that the impact on the EBITDA was mainly due to loss provisions in Ukraine and hydrology variations in the Philippines.
Owing to the ongoing Russia-Ukraine war, Scatec bore an impairment of NOK770 million (~$81 million) of non-current assets, accompanied by a credit loss of provision on trade and other receivables totaling NOK87 million (~$10 million) in Ukraine.
Scatec's total power production totaled 868 GWh in Q1 2022, with projects in the Philippines, Laos, and Uganda.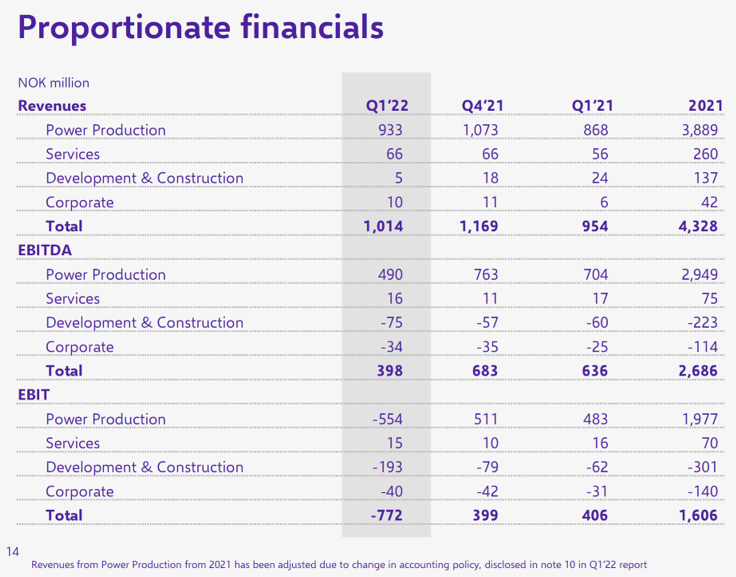 Scatec discontinued the development of its projects in Mali and Bangladesh in Q1 2022 and currently has a backlog of five projects comprising 1.7 GW of solar and 1.1 GWh of battery storage capacity. The independent power producer reported progress in these projects for the quarter and is now mulling the financial closure.
Scatec found favorable conditions for renewable energy projects with a scope for green ammonia and hydrogen in Oman and Egypt in Q1 2022. The company also made its first standalone investment in a 20 MW battery energy storage system (BESS) in the Philippines.
Scatec had recorded revenue of NOK46.15 billion (~$5.23 billion) in 2021, a 62% surge from NOK28.44 billion (~$3.22 billion) in the previous financial year. The independent power producer registered revenue of NOK12.50 billion (~$1.41 billion) in Q4 2021.
In October 2020, Scatec raised approximately NOK4,750 million (~$514.94 million) in gross proceeds in a private placement.
Get the most relevant India solar and clean energy news.