Higher Module Shipments Boost Canadian Solar's Revenue to $1.25 Billion in Q1 2022
Module shipments surged by 42% to 3.63 GW in the first quarter
Canada-based solar photovoltaic module manufacturer Canadian Solar recorded revenue of $1.25 billion in the first quarter (Q1) of 2022, a year-over-year (YoY) growth of 15% from $1.1 billion last year. The company attributed the revenue growth to an increase in module shipments.
The company's module shipments totaled 3.63 GW in Q1 2022, a YoY increase of 42%. Of the total, 156 MW were shipped to the company's utility-scale solar power projects.
For the second quarter of 2022, the company expects total module shipments to be between 4.9 GW and 5.1 GW, including approximately 150 MW for its own projects.
As of March 2022, Canadian Solar's operational solar power projects totaled 800 MW, with a combined estimated net resale value of $580 million. The company signed long-term service agreements for 861 MWh battery storage projects with clients in the U.S., Brazil, North America, India, China, and Germany.
Canadian Solar said that it has around 4,399 MWh of battery storage projects in the pipeline to be executed in the current financial year.
In Q1 2022, Canadian Solar's gross profit amounted to $181 million, a YoY decline of 7% from $195 million last year. The gross margin in Q1 was 14.5%, a YoY fall of 19% from 17.9% in the same period last year.
The company said that the decline in gross margin was due to higher raw materials costs and the absence of the U.S. anti-dumping and countervailing duty true-up benefit.
Operating expenses for the quarter increased 9.2% YoY to $165 million from $151 million.
The net income was $9 million in Q1 2022, a decline of 61% from $23 million in the same period a year ago. An increase in equipment prices impacted the net income for the quarter.
The adjusted Earnings Before Interest, Tax, Depreciation, and Amortization (non-cash) amounted to $66 million in Q1 2022, a YoY increase of 6.4% from $62 million last year.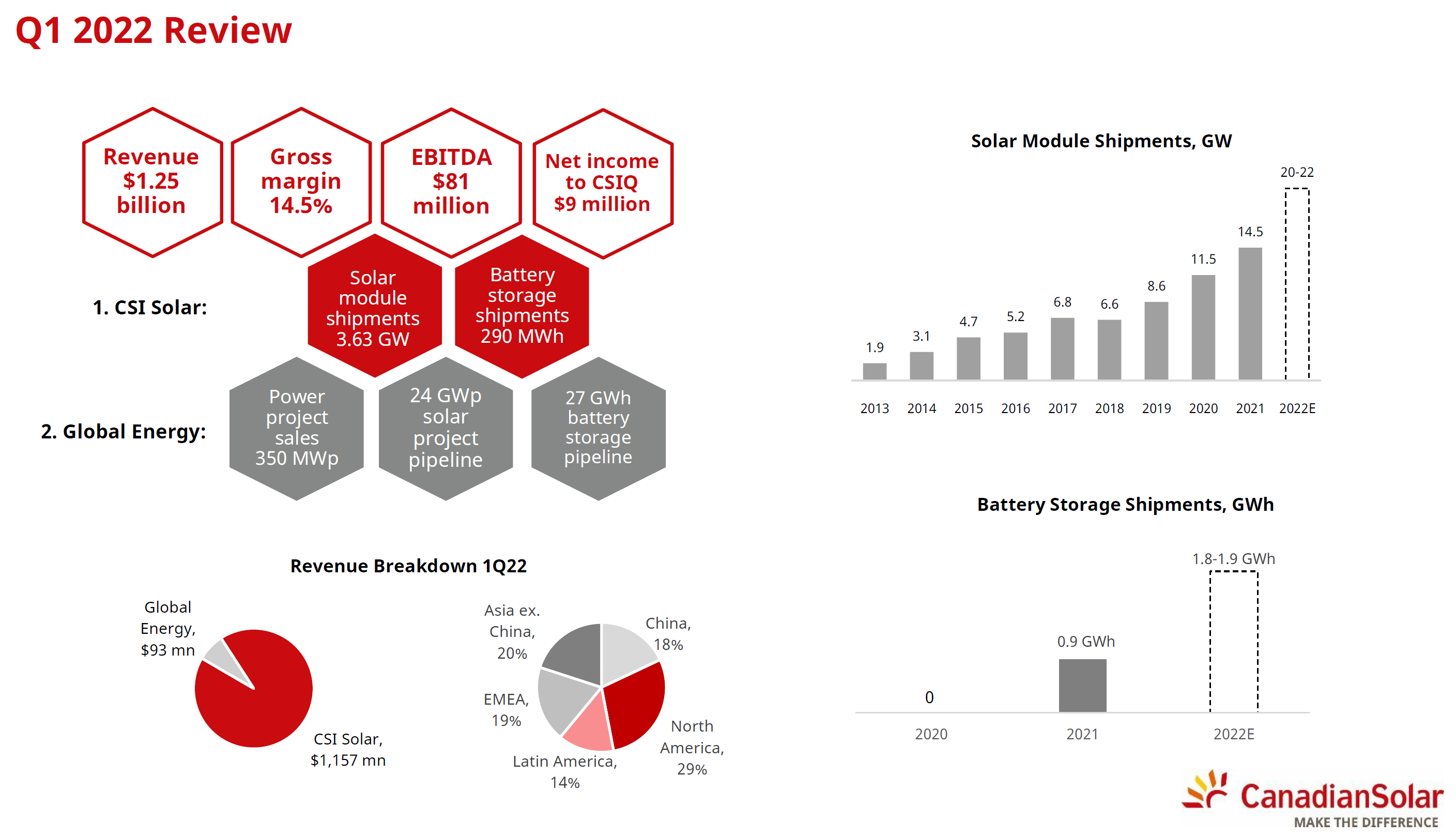 Last month, Canadian Solar announced that its subsidiary company would acquire the Gaskell West 2 and 3 projects of 105 MW solar plus 80 MWh energy storage in California.
Canadian Solar recorded a revenue of $5.3 billion in 2021, a 52% YoY increase supported by stable gross margin improvement in manufacturing operations.
Get the most relevant India solar and clean energy news.