Malaysia Shortlists Bidders for 823 MW of Large-Scale Solar Projects
The projects are split into two packages, with package 2 receiving the lowest bid of ~$0.035/kWh
The Energy Commission of Malaysia (Suruhanjaya Tenaga) completed the competitive bidding process to develop LSSPV (Large Scale Solar Photovoltaic) Projects in Peninsular Malaysia for commercial operation in 2022/2023 and declared a list of shortlisted bidders.
The capacities of the shortlisted projects are:
Package P1: 323.06 MW – RM 0.1850 (~$0.045)/kWh to RM 0.2481 (~$0.060)/kWh
Package P2: 500 MW – RM 0.1768 (~S0.043)/kWh to RM 0.1970 (~$0.048)/kWh
The bidders were selected based on the most competitive prices.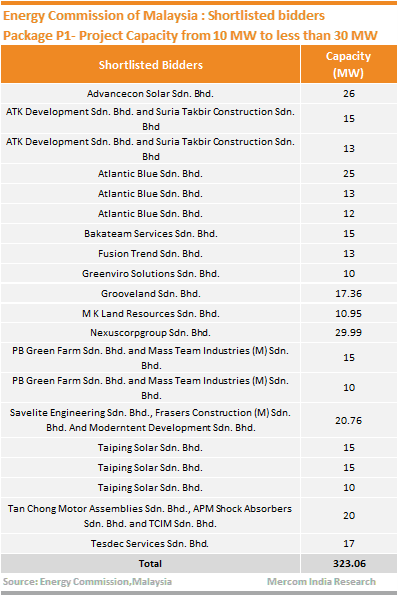 The Malaysian government has been expanding its renewables share in its energy portfolio in the past few years.
In February 2019, The Suruhanjaya Tenaga had issued a 500 MW large-scale solar tender in Peninsular Malaysia. Once commissioned, the solar projects will be connected to the grid and sell energy to Tenaga Nasional Berhad (TNB) under a power purchase agreement. This is the third large-scale solar project tender under the country's large-scale solar program. The projects will be between 1-100 MW (AC) capacity and are expected to be commissioned by 2021.
The Energy Commission of Malaysia awarded nearly 491 MW of large-scale solar projects to five companies in January 2020. The winning companies were ib vogt GmbH and Coara Solar, Cypark Resources Berhad and Impian Bumiria, JKH Renewables and Solarpack Asia, ENGIE Energie Services, and TTL Energy, and Konsortium Beseri Jaya and Hanwha Energy Corporation Singapore.
In June last year, the Ministry of Energy and Natural Resources (KeTSA) of Malaysia floated a 1 GW solar tender. The tender has been floated under the fourth round of the nation's large-scale solar program initiated by the Malaysian government to attract investments in the renewable sector. This is the largest capacity ever tendered by the Malaysian government.
TNB Renewables, a wholly-owned subsidiary of Malaysian utility company Tenaga Nasional Berhad (TNB), is also set to buy a 39% stake in five rooftop solar projects developed by Singapore-based Sunseap Group in Vietnam. The process is expected to be completed by March 2021.
Rahul is a staff reporter at Mercom India. Before entering the world of renewables, Rahul was head of the Gujarat bureau for The Quint. He has also worked for DNA Ahmedabad and Ahmedabad Mirror. Hailing from a banking and finance background, Rahul has also worked for JP Morgan Chase and State Bank of India. More articles from Rahul Nair.
Get the most relevant India solar and clean energy news.