Kerala Invites Bids for 1.08 MW Rooftop Solar Systems
The last date to submit the bids is January 21, 2023
The Agency for New & Renewable Energy Research and Technology (ANERT) has invited bids for the installation and commissioning of 1.076 MW of grid-connected rooftop solar systems on eight public buildings in Thiruvananthapuram under the Solar City project.
The successful bidder is required to undertake the project's operation and maintenance (O&M) for a warranty period of ten years.
The project will be funded by Smart City Thiruvananthapuram, a Special Purpose Vehicle set up for the implementation of the Smart City Mission of the Government of India.
The last date to submit the bids is January 21, 2023. Bids will be opened on January 23.
The successful bidder must furnish a sum equivalent to 3% of the value of the contract as a security deposit.
Further, the bid participation is restricted to vendors empaneled with ANERT for solar power projects.
The successful bidder will have to sign a tripartite agreement with ANERT and Smart City Thiruvananthapuram within the period that would be specified in the letter of acceptance.
The successful bidder should complete the installation and commissioning of individual solar systems at the sites mentioned below: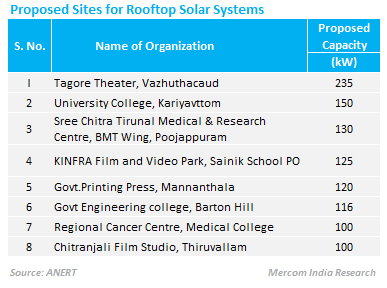 The selected contractor must complete the installation of systems with capacities between 100 kW to 200 kW within 60 days of signing the agreement and within 75 days for systems with above 200 kW capacity.
If the contractor fails to perform the service within the stipulated time, the company will have to pay a sum equivalent to 0.5% of the unperformed service for each week of delay, subject to a maximum of 10% of the contract price for delayed services.
The bidder must use solar modules of 500 Wp output from entities in the Approved List of Models and Manufacturers (ALMM) issued by the Ministry of New and Renewable Energy.
The solar modules to be used in the project must carry a warranty for their output peak watt capacity, which should not be less than 90% at the end of ten years and 80% at the end of 25 years.
Also, the solar modules should be salt, mist, and ammonia resistant and should withstand weather conditions for the project's lifecycle.
Last October, ANERT invited bids for the design, supply, installation, and commissioning of 1.232 MW of grid-connected rooftop solar systems on 71 public buildings in Thiruvananthapuram, Kerala under the solar city project.
Earlier, ANERT had invited bids from empaneled agencies for the rate contract to develop 15 MW of rooftop solar projects in Thiruvananthapuram.
According to Mercom's India Solar Tender Tracker, ANERT has floated 87 MW of rooftop solar tenders to date.
Get the most relevant India solar and clean energy news.