Energy Storage Firms Tap $26.4 Billion in Corporate Funding in 2022, up 55% YoY
Smart grid companies raised $3.3 billion, the highest amount of VC funding since 2010
Global corporate funding for energy storage, smart grid, and energy efficiency companies increased 63% in 2022 with $31.7 billion compared to $19.5 billion in 2021, according to Mercom's Annual and Q4 2022 Funding and M&A Report for Storage, Grid and Efficiency.
"Funding into energy storage continued to grow at record levels in 2022. The global energy transition and the shift toward EVs, along with the Inflation Reduction Act, provided strong tailwinds for energy storage companies," said Raj Prabhu, CEO of Mercom Capital Group.
According to the data revealed in the report, corporate funding for energy storage companies rose 55% to $26.4 billion in 2022 — the highest ever — compared to $17 billion in 2021.
VC funding for energy storage companies fell 34% to $5.8 billion in 2022 compared to $8.8 billion in 2021. Lithium-ion-based battery technology companies received the most funding, followed by battery recycling, iron-air, and solid state battery companies.
"Some of the funding activity shifted from venture capital and private equity to public market and debt financing in 2022," said Prabhu. "Last year's VC numbers skewed higher by just two companies raising over almost $5 billion combined."
The top VC-funding deals in 2022 included Eolian, which raised $925 million, Form Energy which raised $450 million, and Group14 Technologies, which secured $400 million, followed by Ascend Elements and Hydrostor, which raised $300 million and $250 million, respectively.
Last year, the debt and public market financing announced by energy storage companies increased 151%, with $20.6 billion in 28 deals compared to $8.2 billion in 20 deals in 2021. Six energy storage companies went public in 2022 compared to four in 2021.
LG Energy Solution's $10.7 billion dollar IPO was a big part of public market financing.
"In addition to record funding activity, energy storage companies and projects were also acquired in record numbers, reflecting maturity in energy storage markets and assets. Energy storage companies with technology advantages and market share are in great demand. Solar plus storage projects are now mainstream and are attracting significant interest from investors." added Prabhu. "The 30% investment tax credit for standalone storage projects is a game changer going forward and makes project economics really attractive in the U.S."
A record 28 energy storage companies were acquired in 2022, the most since 2014.
Energy storage project acquisition deals increased by over 20%, with 45 transactions in 2022 compared to 37 in 2021. A record 14.6 GW of energy storage and solar plus storage projects were acquired in 2022, a 400% increase YoY compared to 3 GW in 2021.
Smart Grid 
The report found that in 2022 VC funding in the smart grid sector grew 175% YoY with $3.3 billion in 46 deals compared to $1.2 billion in 35 deals in 2021. This was the largest amount of VC funding raised by smart grid companies since 2010.
Smart charging companies had the largest share of VC funding in the sector in 2022, with $2.2 billion. The push for EVs around the world has made charging companies an attractive target for investors.
Total corporate funding, including debt and public market financing, came to $4.7 billion in 58 deals compared to $2 billion in 38 deals in 2021.
Some of the top VC funding deals for smart grid companies in 2022 included $1 billion raised by TeraWatt Infrastructure, $243 million raised by Gridserve, $200 million raised by Arcadia, $128 million raised by Sense, and $127 million raised by Be.EV.
In 2022, there were 20 mergers and acquisitions in the smart grid sector compared to 19 transactions in 2021.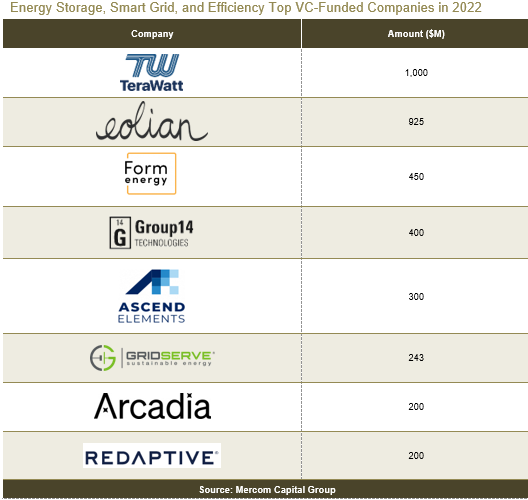 Efficiency
VC funding for energy efficiency companies stood at $490 million in nine deals in 2022, compared to $122 million in seven deals in 2021.
Total corporate funding, including VC and debt and public market financing for energy efficient companies reached $540 million in 2022 compared to $465 million in 2021.
Energy efficiency companies announced $50 million in debt and public market financing in one deal. That compared to $343 million in one deal in 2021.
To get a copy of the report, please visit: https://mercomcapital.com/product/annual-q4-2022-funding-ma-report-for-storage-grid-efficiency
Get the most relevant India solar and clean energy news.